Another Few for Tuesday
eLife fires Eisen, journals without regrets (or refunds), and a forgotten "flagship"
Unlike some places that only give you two for Tuesday, I'll provide a few — Eisen, refunds, and the forgotten DEAL journal.
eLife Fires Eisen
Last night, Science reported that Michael Eisen, Editor-in-Chief of eLife, has been fired over his retweet on October 13th of a satirical article from The Onion:
Of course, there is more to the story: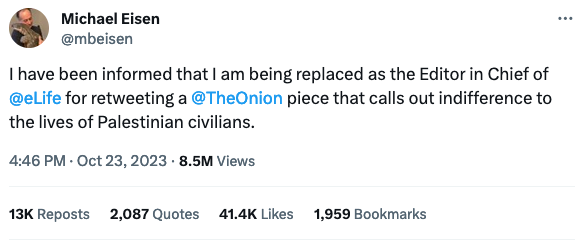 Editorial board members have resigned over Eisen's initial tweet, eLife's initial response, and now over Eisen's firing
Eisen was hired as EIC of eLife in 2019. His time at eLife did not advance that journal's reputation or effectiveness, instead taking a second-rate journal and damaging its questionable prestige, while painting the "journal" into a corner strategically with a misguided preprint-review approach, and igniting unnecessary controversies that leave it short-handed and reeling.
Note: Coincidentally, after checking Twitter/X for updates on Eisen, I closed my final account on the platform yesterday morning. Aside from 2-3 accounts I follow, the platform has become what Scott Galloway calls "the sewer system for the sewer system." It does not bring out the best in people, and has only degraded since Elon Musk took it over a year ago. If you have tips or insights, please email me with them.
---
Why Do Publishers Get to Keep the Money?
When publishers collecting APCs set up poorly managed editorial review systems, collect APCs from submissions, and then shortly thereafter retract scores of papers because of compromised peer review, why do they get to keep the money?