Dear SPARC Steering Committee,
Have you been paying attention? How are you feeling about SPARC these days?
In general, given the times, how are you?
In case you aren't familiar with "The Geyser," it's a newsletter informed by the idea of "optimistic criticism" — the belief that pointing out problems can inspire people to make things better.
I believe SPARC has problems and can do better.
I'm writing this to provide you with a handy overview of some of the things recently uncovered about SPARC, its fiscal sponsor, its contractual relationships to this sponsor, its posture relative to transparency and "openness," misleading statements by people associated with SPARC initiatives, and a conflict of interest for its Executive Director.
Surely, you've been keeping up with all of these things as they've emerged over the past month or so, but allow me to summarize and provide some useful hyperlinks:
The New Venture Fund (NVF), which is the fiscal sponsor of SPARC, is a non-profit associated with a for-profit consulting firm catering to philanthropic organizations

NVF and the network of non-profits controlled by this consulting firm has been named a "dark money" operation, and one of the largest of its kind

SPARC and NVF have shared office space, most crucially during a national election cycle in the US, when NVF and its siblings were actively courting political donors for hundreds of millions in campaign contributions

NVF has ties to a Swiss oligarch who has been associated with corporate crimes, illegal campaign donations, and establishing fake news sites

NVF appears to be able to squelch disclosures from SPARC, as alluded to in an interview

NVF draws the boundaries of SPARC's advocacy, with the ability to drop SPARC every year if SPARC is not compatible with its goals

NVF lawyers appear to have been involved in silencing people entangled in a controversy involving Jon Tennant at a SPARC-associated event

NVF pays the salaries of SPARC employees

SPARC is running a funding group — the Open Research Funders Group (ORFG) — also ostensibly devoted to transparency, but one which does not disclose the grants or donations it makes, nor the donations or grants it receives, just as SPARC does not

Apparently, some donors to SPARC or ORFG wish to remain anonymous, and the amounts given to be undisclosed — abnormal practices for a non-profit, and poor governance practice in general for a group espousing transparency and openness

SPARC is paying NVF's for-profit company (Arabella Advisors) for services each year, but has not disclosed except in general terms how much Arabella is making from SPARC

SPARC's Executive Director, Heather Joseph:

Claims SPARC is as transparent as any non-profit, a claim that is easily refuted by the simple lack of information and non-responsiveness of SPARC and NVF to the kinds of questions non-profits must answer

Has a conflict of interest, serving on the board of a funder (since 2019) at the same time as she is supposedly independently leading SPARC

This conflict of interest seems to have been operationalized, coinciding with that funder (the Arcadia Fund in the UK) becoming a top donor to SPARC via NVF

May be contracted individually with NVF, meaning that SPARC and Joseph are essentially one and the same, and that your role is more decorative, with no real power to hire, fire, reprimand, or reward
All of this places SPARC in a larger organizational framework: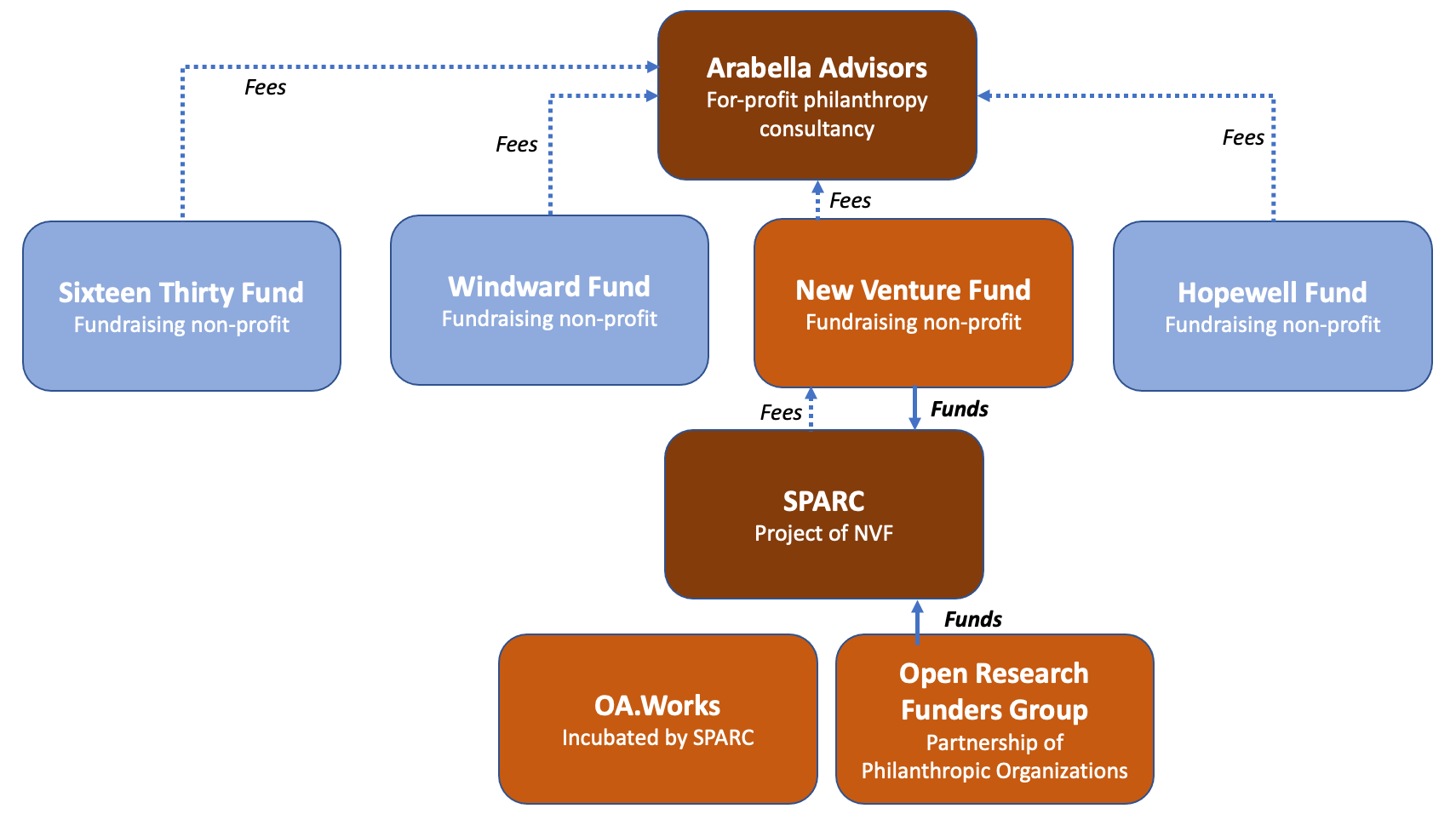 Now, why does this matter? A few reasons:
You are collectively and individually associated with SPARC, an organization that is becoming perceived as hypocritical and untrustworthy due to its public stances about transparency and openness, while it is secretive and unresponsive, and a project of a "dark money" political operation

This non-profit political fund-raising organization (NVF and its counterparts) is becoming the focus of more investigative journalism, seems to have incompatible practices, and may control more of SPARC's behavior than you realize

The conflict of interest for the Executive Director makes it unclear whose agenda she is pursuing — SPARC's or that of a UK funder

It is a conflict of interest that should have been disclosed — and, if the Steering Committee has any power, approved

Was it disclosed and approved? Or are you just becoming aware of it?

If Joseph is individually contracted with NVF, is that a conflict of interest? After all, she is an employee of NVF, and in addition has a contract — which she has not shared, and which you may not have seen — with NVF that may constrain or incentivize her in various ways individually
SPARC is large enough now to stand on its own as a separate non-profit, and no longer needs the support of a fiscal sponsor (e.g., the Mask and Wig Club of the University of Pennsylvania is a non-profit, and has far fewer resources — and it is but one of many examples)
Becoming a full-fledged non-profit would address most, if not all, issues related to SPARC's perceived secrecy and lack of independence
SPARC's contract with NVF is renewable annually, a fact you may want to consider if you have any influence over the 2023 renewal with NVF
As coverage of this grows, with the most recent coming from the well-regarded "The Brief" from Clarke & Company this week, I wanted to make sure you had the information you may need to evaluate how you, as a member of SPARC's Steering Committee, and as the Steering Committee as a whole, can respond in a way that retains or builds trust with the communities SPARC serves, resolves conflicts of interest, divulges information in the name of transparency and openness, and organizes itself so that SPARC can independently fulfill its mission and goals moving forward.
SPARC can do better.
Thank you for your time and attention.
---
The SPARC Steering Committee is:
Virginia "Ginny" Steel, UCLA
Heather Joseph, SPARC
Jennifer Beamer, The Claremont Colleges
Gwen Bird, Simon Fraser University
Chris Bourg, MIT (non-voting)
Talia Chung, University of Ottawa (non-voting)
Vicki Coleman, North Carolina A&T University (non-voting)
Christopher Cox, Clemson University
Karen Estlund, Colorado State University
Antoinette Foster, Oregon Health & Sciences University
Scarlet Galvan, Grand Valley University (non-voting)
Carrie Grits, Austin Community College (non-voting)
Harriett Green, Washington University in St. Louis
Lorraine Haricombe, University of Texas at Austin (non-voting)
April Hathcock, New York University
Mary Lee Kennedy, Association of Research Libraries
Beth McNeil, Purdue University
Carmelita Pickett, University of Virginia
Ariana Santiago, University of Houston
Elaine Thornton, University of Arkansas
---
The Geyser — Hot Takes & Deep Thinking on the Info Economy is a reader-supported publication. To receive new posts and support my work, consider becoming a free or paid subscriber.