Wiley's Struggles Continue
Another quarter, and more bad news for Wiley, as the damage from Hindawi lingers and options in the OA model dry up
You undoubtedly recall Wiley's last quarterly report, which revealed how problems with Hindawi special issues had created a financial vulnerability for the firm on the revenue side, and how Wiley's stock tumbled 13% in a matter of minutes.
As MarketWatch put it at the time:
The research and publishing company swung to a loss of $71.5 million, or $1.29 a share, for the quarter ended Jan. 31, compared with a profit of $35.4 million, or 63 cents a share, in the same period a year earlier.
The financial problems emerged due to fraud in the Hindawi special issues program, which Wiley attempted to portray as something addressed immediately. The most relevant slide in their deck showed how profitable these programs were ($30M in revenue, $25M in EBITDA imputes a margin of better than 80%).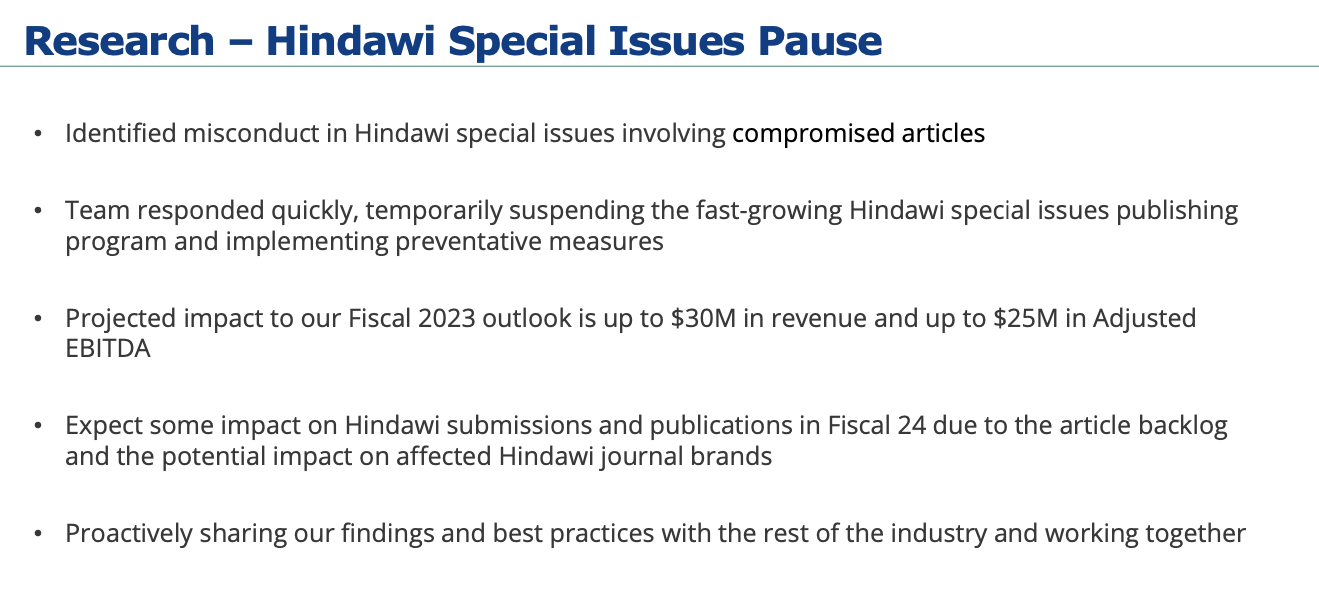 Because of this and other factors — note the profitability swing year-to-year is more than $105M — guidance for the company seemed destined to be off significantly for the entire year.
Now, Wiley's latest financial report is out — and while the analyst tries to give it a positive spin in the beginning, the fundamentals paint another picture, and it all catches up to him in the end (emphasis mine):