Is Wiley a Grim Portent?
When publishers deviate from their role, reputations — and revenues — can be damaged
Is Wiley our first domino?
The imagery of dominoes falling has proliferated in the wake of the banking problems that first broke publicly with Silicon Valley Bank (SVB), and were then followed by similar liquidity and confidence issues at First Republic and Credit Suisse.
The problems emanating from John Wiley & Son's recent travails involving Hindawi continue to suppress confidence in a publisher that for decades seemed able to retain its prestige and market power despite digital and market headwinds. Its stock has barely registered any gains since its precipitous fall in early March: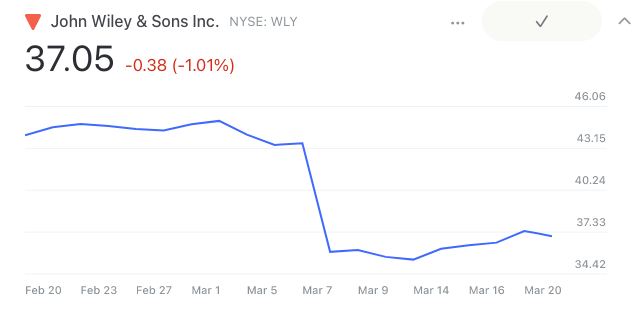 The stock's fall came when Wiley stated its revenues would be off by more than $30M (and $25M in EBITDA), far greater than the $9M often quoted in coverage of the Hindawi problem. Having paid a 7x multiple for Hindawi in 2021 — more than twice the multiple Wiley paid for Atypon despite no recurring revenues — the current problems surely sting.  
But Wiley has been underperforming for a while, according to analysts. And with a history of acquisitions that resemble commoditized core functions rather than growth companies, Wiley's revenue stall isn't that surprising in hindsight.